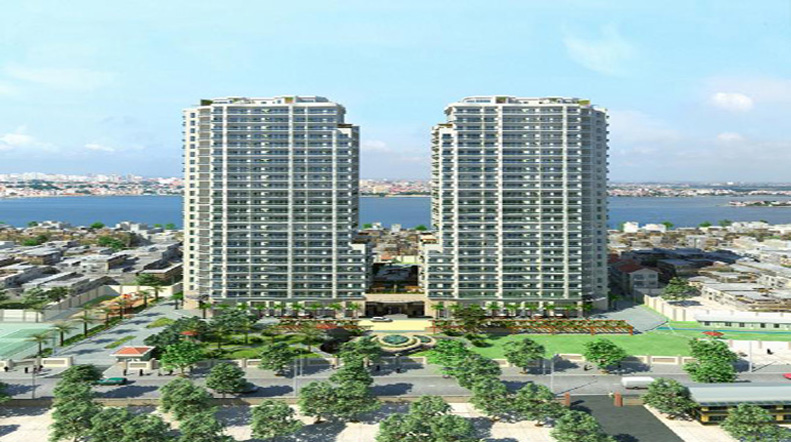 Introduction Golden westlake project:
Golden West Lake project is situated in 2 ha area at 151 Thuy Khue street (162A Hoang Hoa Tham street), Tay Ho district, Hanoi. Golden westlake Building has total 370 apartments that are designed to become one of the most luxurious executive residences in Hanoi. Hanoi Golden Westlake project offers a residential environment second to none, rising up 23 floors over the podium plaza. Comprising of 370 beautiful apartments with over 15 categories, 16 villas with 4 unique designs, set amongst a lush 2 hectare, private parkland estate, Golden Westlake Residences raises a whole new level of luxury. Overlooking the largest lake in Hanoi, the executive residences command the ideal vantage point for the best views of the lake, river and city skyline. Situated at the pinnacle of Ho Tay, you can be soothed by wonderful breezes and relish tranquil living. Golden Westlake Residences offers a superb selection of luxurious accommodation, with a choice of one, two, three, four or five bedroom apartments. Golden Westlake's apartments also provide an outdoor balcony with a romantic view of the beautiful Westlake. The interior designs are stylish, contemporary, very spacious and peaceful.
Would like further information, we invite you to discuss this with us via email/call us on 0934 363 998 or click our website http://alphahousing.vn/.
Thanks for your reading.
https://indochina-plaza.com/wp-content/uploads/sites/78/2016/02/Golden-westlake-building.jpg
442
791
https://indochina-plaza.com/wp-content/uploads/sites/78/2018/07/indochina-plaza.png
2016-02-13 03:55:48
2016-02-13 03:55:48
Hanoi Golden westlake Building, best peaceful place to living